For the lieutenant, see Alpha (Lieutenant).
[ NO DATA SHEET ]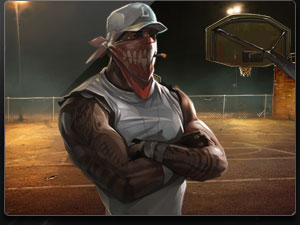 Alpha is available once you complete the Skull Boss job in the Slums area, giving you the Street Rival's Cell Phone.
Basic Information
Edit
Maximum Participants: 5
Boss Fight Time: 1 hours
Rewards Collect Time: 24 hours
Total Boss Health: 10,000

Maximum Collectible Empire Points: 10 (per person over highest epic threshold)
Over hitting past the last threshold will reduce the overall empire points available to other players.

RECOMMENDED CLASS: Any
Speed Kills
Edit
1 Star:
2 Star:
3 Star: 0:00:26 - 2:42:29
Completion Dialogue
Edit
You defeat Alpha!
Alpha: "NoOOooOoo...."
"This isn't over. You haven't heard the last of the Skull Gang!"
Frank: "Good job son! The Skull Gang has been a pain in our sides."
Sara: "It's good to be rid of those common street thugs."
Frank: "I have another job for you. A crooked cop has been skimming from the top and taking my shipments."
"...go to the train tracks and take care of this for me. You won't be disappointed."