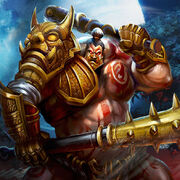 Yokozuna holds the highest title in Sumo wrestling, but is also known in criminal circles as the 'Oni', or demon. The mention of his street name strikes fear into assassins' hearts, as he is known for gaining inhuman strength the more he is attacked.
Alignment: Dragon Syndicate
Special Ability: Yokozuna allows the player to gain a % increase on their overall attack power based on their current health %. Firstly, attack power is your overall attack (so not just your player attack). Some of the other factors that it includes are your weapon attack/defense, gear attack/defense, vehicle attack/defense, player defense, LT attack and LT defense. Yokozuna will modify your overall attack power (so it essentially is increasing ALL of those elements). The second part of the power, "based on current health" means that at higher health, Yokozuna will give the full % increase on attack power. For example, if I'm at 100% health, I'll get 100% of the listed % attack power increase. Likewise, if you are at 50% health, you'll get 50% of the attack bonus.
Stats:
Stars
Stats at level 1
Max Level
Stats at Max Level
Power
Attack
Defense
Attack
Defense
1
21
24
10
30
33
Up to +0.5% overall attack power based on current health %
2
26
29
15
40
43
Up to +0.6% overall attack power based on current health %
3
31
35
20
50
54
Up to +0.7% overall attack power based on current health %
4
37
42
25
61
66
Up to +0.8% overall attack power based on current health %
5
44
50
35
78
84
Up to +0.9% overall attack power based on current health %
6
53
60
50
102
109
Up to +1.0% overall attack power based on current health %
7
63
72
75
137
146
Up to +1.1% overall attack power based on current health %
8
100
9
150
Obtained from:

Can be purchased for 30 FP at the Black Market

Good Pair Sale - Yokozuna

Mega Sale - Yokozuna
Item(s):